Staff Training Events
While implementing Anti-Money Laundering controls, a firm must ensure that it's key personnel have sufficient knowledge to execute their AML responsibilities. Supervised firm's are therefore required to carryout routine training sessions and to document the subject matter along with specific details on the attendees, location and time.
To simplify this process we have created a dedicated training area where you can schedule events, issue notifications / reminders and add your own notes.
You can find this option in the left hand menu under the "Training" header.

Schedule a new Training Event
To schedule a new training event click on the "Create Training Event" button. You will then be prompted to provide a title and description for the event, along with information on the date, time and attendees.
You will also have the option to have an email sent to each attendee, outlining the details of the event. You can preview this email directly from the form.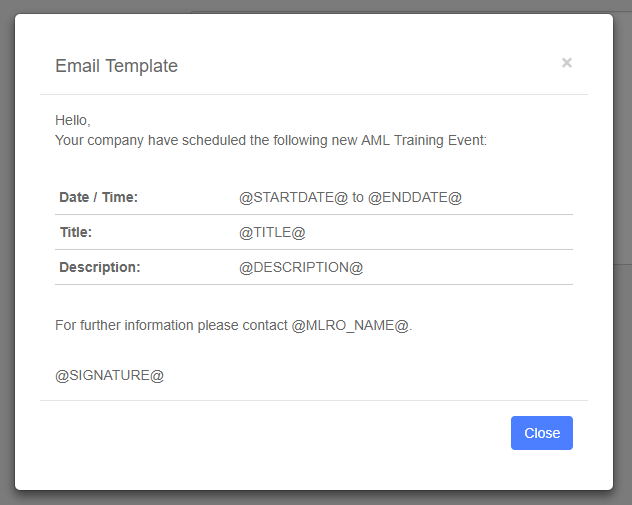 Manage an Existing Training Event
Once a training event has been created you will see it appear on the main list. You can then view the event to perform some additional tasks. From the training event preview screen you can edit the details, mark as cancelled, delete, attach a document and enter additional notes.
When editing event details you will be provided with an option to email the attendee with the revised details.