Electronic ID Checks
To simplify your KYC screening process, we provide a fully integrated Electronic ID checking service that can be applied to any individual client. Electronic ID checks rely on a number of external data points to verify a persons identity, including:
Credit reference agencies
Telephone databases
Voting register
The check itself will perform a soft search on the user's credit file. It will leave a trace, but will not affect their credit score.
Performing an ID check
To start the check, click on the arrow next to "KYC Checks" for the Associated Person, and select ID Check from the dropdown list.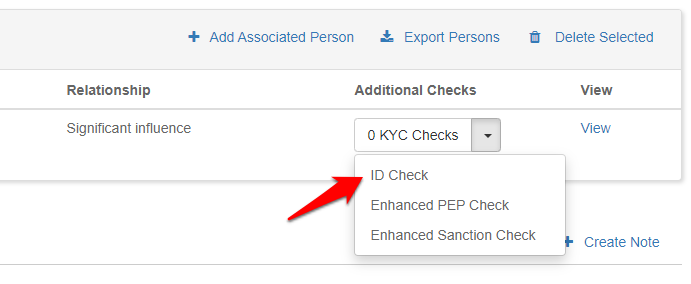 This will reveal the option to enter the details for this person that you wish to check. Click Save and we'll carry out the checks on your behalf. These typically take around 2 minutes and will be carried out there and then.
Once the ID check has been completed, you will be given the option to view the results and download a report.
Accessing the report
The report will be saved as a PDF on your account and is accessible at any time in the KYC area of the client management.

You will also notice the KYC check count will increase for this associated person:

Clicking this will take you to a list of KYC checks for this specific individual.
Can my client view these reports?
No, these checks are only visible on your account and will not be shown in the client portal.
What is the cost for performing an electronic ID check?
Electronic ID checks are priced at £1.50 + vat. You will need to top up your prepaid credit account before placing an order.
Can I carry out multiple checks?
Yes. You can carry out multiple checks on the same person if required. However, multiple checks will be charged individually, and may leave multiple soft search traces on your client's credit file.
What countries are supported?
These checks are currently only available for UK individuals.