Client Portal Explained
The client portal is a dedicated area where your client can supply all requested information that is used as part of your KYC screening process. Once you have set up the relevant KYC checks you can email your client with a link to the portal which will list out the documents and information required along with the names of the relevant individuals.
The client portal allows you to make two types of request.
Document Upload
A request for the client to upload a document, this may be directed towards an individual and may include a passport or proof of address document. It may also be a company document that is required such as a certificate of incorporation or proof of insurance.
Question
A specific question that you would like to ask your client, this may include any one of the following or something entirely unique to your business e.g.
How long have you been trading?
How many employees do you have?
What is the nature of your business?
The questions would be relevant to your business and the client risk profile.
Completing the Checklist
When the portal link is sent to your client it will be active for 14 days (this can be customised in the settings area). Once the client has accessed their portal they can then click on each section and provide the necessary information.

For uploaded documents, the client can supply multiple files for each request. The client can also change the names of the uploaded files to provide something more descriptive.

Once each section has been completed, the client can then submit the information for review using the button "Send for Review" on the main checklist screen.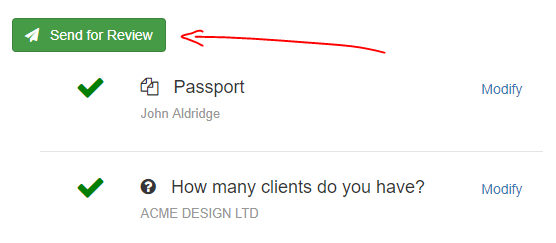 When a checklist has been penned for review it will appear on the main admin dashboard and the account holder will also receive an email prompting them to review the submitted information.
You can find out more about the review and respond process in the KYC guide here.